Cucurbita is the old Latin name for the gourd. The Cucurbitaceae or cucurbit family (also commonly referred to as the gourd and pumpkin family) is a medium-sized plant family, includes crops like squashes and pumpkins, primarily found in the warmer regions of the world. It is a major family for economically important species, particularly those with edible fruits. Some of these represent some of the earliest cultivated plants in both the Old and New Worlds.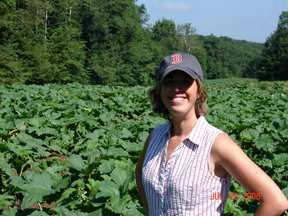 What is the significance to us – why do we feature it on our literature?

Because "pumpkins, gourds, and squash" didn't fit on our business card or banner!!

Also, it's a great conversation starter, don't you think?

We grow a diverse line of fall produce from the perfect pumpkin to the most unusual gourd, to the sweetest winter squash. All our cucurbits are grown using a "no-till" strategy involving advanced cover crop management that we believe is the best long-term sustainable strategy for our fields and soil health.

We primarily wholesale our fall crop to retailers in the area. Our largest customer who carries our complete display is Hogan's Cider Mill in Burlington. Hogan's was our first customer back in 1996 and continues to expand their product line with us each year.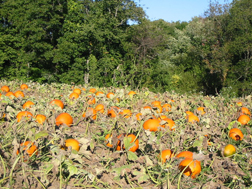 Are you a wholesaler interested in our product? We can grow a crop customized to your retailing needs. Please contact us at 860.921.3434 for more information.

Additionally, we retail our fall produce at the Litchfield and Collinsville farmers markets.