Pick Your Own Strawberries
Pre-picked Strawberries
Tips for a great experience at the farm
Our locations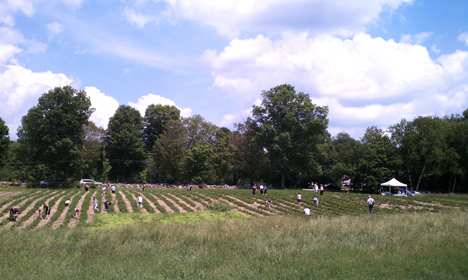 PICK YOUR OWN STRAWBERRIES
See "News from the Field" for Details, Current Picking Conditions and Pricing.



PRE-PICKED STRAWBERRIES
We pride ourselves in growing what we believe are some of the best tasting strawberries. Our five acres of berry fields are some of the most innovative in the state. We grow many different varieties, from old heirlooms to the most modern crosses. In 2012 we picked our first quart of berries on May 8th and finished the season on October 12th. We break down our berry business into three parts. Early season before we open for PYO, we harvest a small quantity of fruit that is pushed ahead under row covers to ripen quickly. During the June season we open up our fields to PYO. Our late season berries start ripening at the end of July and go to hard freeze. Typically we harvest these for sale pre-picked at farmer's markets & at our stand. We gladly welcome pick-your-owners by appointment in the late season.

It is important for customers to pay attention to either our "News from the field" tab or Facebook page where Farmer Jon updates daily on picking conditions & the overall crop report.(LINKS) We are not a large, industrial scale farm that has continuous supply and weather in New England is extremely variable. While strawberry farming in Connecticut has declined for these reasons, the internet makes it possible to keep customers up to date real time, helping to better manage the inherent variability of the business.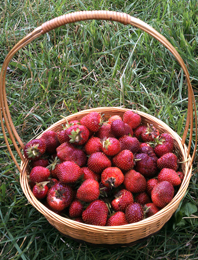 TIPS FOR A GREAT EXPERIENCE AT THE FARM!
Pick only fully ripe fruit, their sugar content is highest!

If you plan on freezing berries, freeze as soon as possible after picking.

Whenever possible arrive in the morning to pick berries, berries picked in the morning keep longer.

Bring your whole family, the picking gets done faster!

If you are not going home right away, bring a cooler to put your berries in.

Refrigerate all berries that won't be used in one day.

We provide picking containers & baskets and have restroom facilities.

For recipes, jam making, freezing instructions, and other useful strawberry tips visit www.pickyourown.org.




OUR LOCATIONS: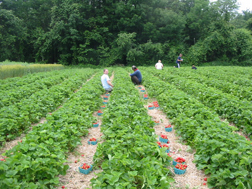 Click here for directions.